The old cliché is true: first impressions really are everything, especially in the career world. They can help you form professional relationships that open doors for opportunities in your career.
You might be surprised to learn that more than half of first impressions are determined by appearance. Your physical attributes give others subconscious signals about your valuable qualities as an employee, so it's important you know how to position and utilise them in your favour.
To explore this further, check out this infographic that dives into the science of first impressions and how to form a good one: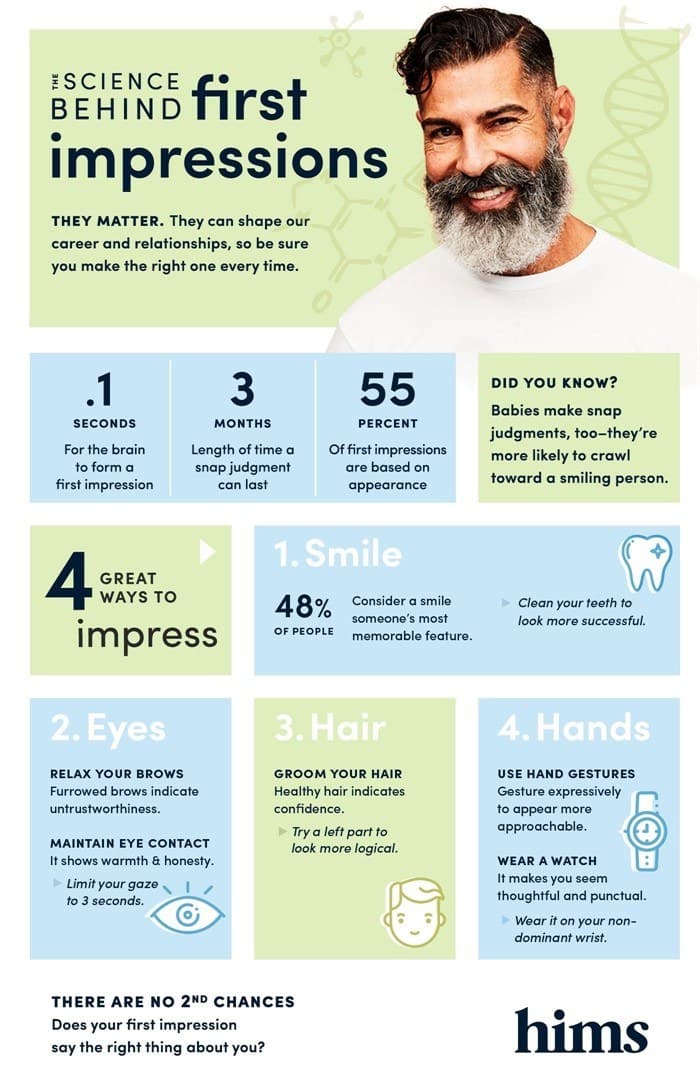 Here are some top tips on how to use your appearance to form the best first impression on other professionals and gain access to future career opportunities.
Appearance
Clean, healthy hair that's styled well and paired with an outfit that's appropriate for the work environment can exude leadership and confidence, helping you stand out amongst coworkers.
Tip: Experts claim that parting your hair on the left can make you come across as more logical.
Attire
Remember to research the organization's culture and dress code beforehand. Look into a guide to interview outfits per work culture, and dress accordingly to fit in with coworkers.
Tip: Experts advise wearing a watch to appear punctual and mindful. Be sure, however, to wear it on your non-dominant wrist so it doesn't become distracting during conversations.
Eye contact
Maintaining eye contact can let your superiors know that you're attentive to detail and eager to learn, which will lead them to rely on you for assistance with important tasks in the future.
Tip: A generally accepted rule is to hold eye contact 50% of the time when speaking and 70% of the time when listening.
Body language
Your body language can show colleagues or superiors your interest in the task at hand, how much you value their time, and increase your reliability.
Tip: Utilising hand gestures periodically can emphasize your charisma and warmth. If it feels unnatural, try spending some time practicing in the mirror until you get comfortable with it.
Are you leaving good first impressions? Or are you rubbing people the wrong way? Use these suggestions to establish better relationships and acquire more professional capabilities.