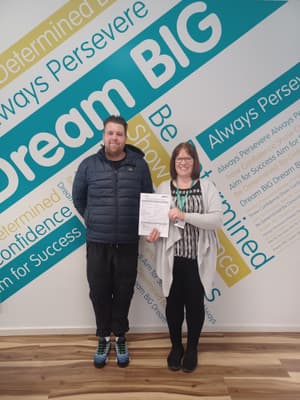 Kasia (30) was referred to the Inspira Restart programme by his local job centre in April 2023. He really wanted to start a career in the construction sector but along with not having a Site Safety Card, he had skills gaps and did not have a current CV.
It is fair to say that Kasia had not had the easiest start to his working life, he never attended school and had no real sustainable career path. However, Kasia always strived to improve thing for himself such as attending college to gain English and Maths qualifications and was employed at a local abattoir for 8 years, and more recently he worked for a family member at their painting and decorating business.
Leeann an Inspira Employability Adviser, initially supported Kasia to create a CV, she also arranged for him to have a National Careers appointment to gain extra support to find training opportunities and match current vacancies to his skill set. Leeann arranged for Kasia to attend CSCS Training course with BTP Construction which he successfully passed and gained his certification and CSCS card.
Kasia then went on to attend a Routeway to Employment programme with Galliford Try and Story Contracting which consisted of classroom days with coaching to find out more about the companies, the work they are delivering on the Carlisle Southern Link Road on behalf of Cumberland Council, what to expect on site along with interview preparation and techniques.
Following this Kasia spent two days at Story Contracting discovering more about the company and what working for them would be like in reality.
Kasia really stood out from the crowd with his behaviour, interest in the role and by asking pertinent questions, he really impressed the Contract Manager who offered him an interview. A week later he was offered paid on the job experience.
Helping to get Kasia successfully into employment really was a team effort, during the process of attending the courses and training, he also received support for:
Food bank referrals to help him with the cost of living.
Registration for a SIM card from the Databank Surgery at Carlisle Library so he could have data for texts and minutes to keep in contact with Inspira and the Contract Manager at Story Construction.
Hair cut before the interview.
Creation of an email address.
Leeann said "This is a new start for Kasia and a great opportunity for him to have a successful career in the construction sector. Kasia has expressed his appreciation to the whole team and how he couldn't have got to this point without our support".
Kasia gained paid on the job experience at Story Contracting for five months and absolutely loved it. He recently popped into Carlisle centre with chocolates for the team as a thank you for everything they have done to help him.
He said: "The support I received from Inspira and gaining the new job have been absolutely life changing."
Johnny Little, Contracts Manager, said: "At Story we are committed to employing, training, and developing local people.
"Through our partnership with Inspira, we have been able to provide Kasia with meaningful work experience on some of our construction sites in Carlisle.
"His readiness to learn and enthusiasm to being a part of #TeamStory is great, and we're delighted to be able to support him in his journey back into work."

Image: Kasia with Leeann, Inspira Employability Adviser