The STAR method is a secret weapon you can use when answering different interview questions and it can enable you to:
Highlight your most relevant skills and experience.
Demonstrate your ability to handle challenges and achieve results.
Make a positive impression on the interviewer.
It is best suited for when you're asked to describe a specific situation or challenge you faced, the task you were given, the actions you took, and the results you achieved. These types of questions typically start with "Tell me about a time when...".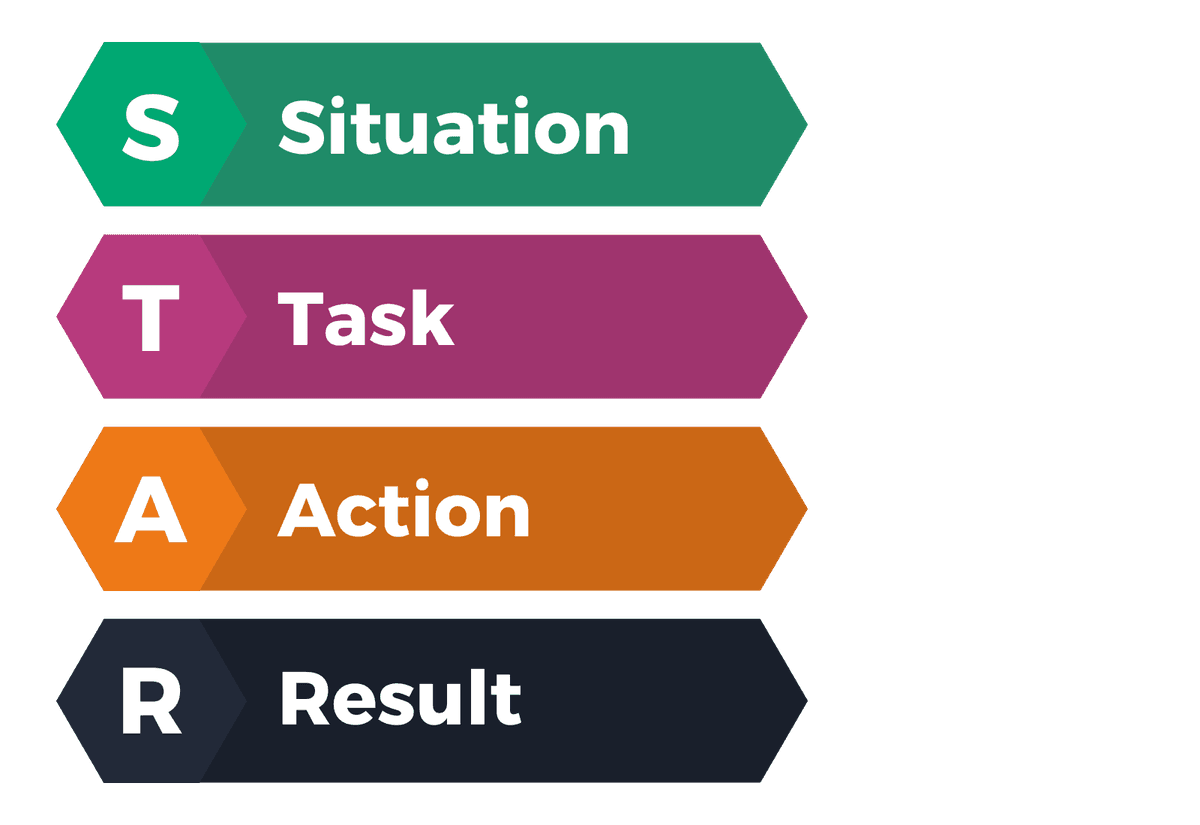 STAR stands for:
Situation: Describe the situation or challenge you faced.
Task: What was your responsibility or role in the situation?
Action: What specific actions did you take to address the situation or challenge?
Result: What was the outcome of your actions?
How to use the STAR method in an interview:
Prepare: Before your interview, take some time to think about specific examples of times when you have demonstrated the skills and experience that the job requires. For each example, identify the situation, task, action, and result.
Listen carefully: When the interviewer asks you an interview question, listen carefully to identify the specific skill or experience they are asking about.
Use the STAR method to answer the question: Begin by briefly describing the situation you faced. Then, explain your task and the specific actions you took. Finally, describe the result of your actions.
Top Tips for using the STAR method:
Be specific and provide concrete examples. Don't just tell the interviewer that you are a good communicator or a team player. Give them specific examples of situations when you have demonstrated these skills.
Be concise. Don't ramble or go off on tangents. Get to the point quickly and efficiently.
Be positive. Even if you are describing a challenging situation, focus on the positive aspects of your response. Show the interviewer that you are able to learn from your mistakes and overcome obstacles, with a good attitude.
Be aware that you can't use the STAR method for every question, for example, you should not use the STAR method to answer questions about your personality, your career goals, or your interest in the company.
Now that you know all there is to know about the STAR method, you can use this information to carry you through your future interviews!
If you have any questions or would like to speak with one of our advisers, please give us a call at 0345 658 8647 or fill in Our Form.
Let us help you Be Bold, Be Resilient and Be Relevant.
To book a free 1:1 appointment with one of our advisors - email, call us or use our form and we will arrange an online or phone appointment with you.
⮞ Call us on 0345 658 8647
⮞ Email us at info@inspira.org.uk
⮞ Our Form
Social Media
⮞ Twitter
⮞ Facebook