Sue (61) had moved to Cumbria from London, being unemployed since September 2022 she felt completely stressed looking for a job. She was referred by her JCP Work Coach to Inspira to attend a Targeted Employment Support Programme.
Sue found job searching difficult and stressful, as her area expertise and experience didn't match any criteria for roles in the local area.
Sue said "I was looking at different job titles/roles such as property management or facility management, but these jobs were not available in the Barrow area, only in Lancaster and Preston, so I lost confidence in job searching".
Sue found if difficult knowing how to update her CV. She did not have the confidence to include her transferable skills on her CV to enable her to apply for available jobs in different sectors.
Additionally, whilst Sue does have a driving licence, she was not confident driver as she had not driven for many years. Previously living in London, she used and relied on public transport but in remote areas of Cumbria, public transport availability and reliability can restrict applying for certain jobs.
Sue also thought her age was a barrier and may cause employers to not consider her.
With her confidence at a low Sue felt despondent as she attended a Targeted Employment Support Programme at the Barrow Inspira centre.
Inspira Targeted Employment Support programmes are designed to equip young people and adults with the skills they need to get their career or education back on track.
Sue said "When I attended the course, I initially did not know what Inspira did or what I would get out of attending the course. I felt ok attending, as I wanted and needed support to get a job. I felt completely distressed".
Whilst attending the course, transferable skills and the valuable of incorporating them into a CV were discussed, along with effective job searches and interview techniques.
One of Inspira's Skills and Development Advisers, Maxine Moore, gave advice on how to use the STAR technique for answering interview questions. The STAR (Situation, Task, Action and Result) method helps you to structure the examples you give to interview questions. You can use it to highlight particular skills and qualities you have that the employer is looking for.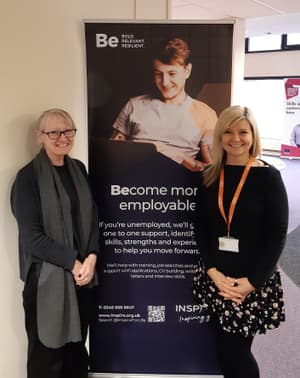 Sue said "Maxine gave me the confidence to use The STAR technique in interviews. This was a really useful and a valuable technique to use. From attending the course, I was given an insight into different interview techniques and methods. This course gave me the confidence to look for a job, as I had lost confidence and was feeling very stressed."
With her newfound skills and confidence Sue was successful in getting a full-time job as a Facilities and Support Services Co-ordinator at the National Trust based at Wray Castle.
Sue said "You [Inspira} gave me the confidence for the future. You gave me the skills and confidence to apply for jobs that I may not have applied for, as I was not aware of my transferable skills. You gave me more understanding and positivity for attending interviews."
After attending the course and being successful in gaining full-time work, Sue has felt empowered to restart driving and has been taking lessons and gaining more experience in driving locally.
Maxine Moore, Inspira said: "It was a lovely working with Sue in the Targeted Employment & Support Programme in February 2023. During the programme, I gave her the techniques and confidence to enhance and develop her own extensive skills and knowledge when applying for jobs and attending interviews. It was wonderful to see Sue succeed in getting a job with the National Trust, as she feels so passionate about conservation and working in such beautiful places.
Sue commented "It is a tremendous relief to get a job, I no longer feel anxious. By having a job, it has given me a sense of purpose. I had no routine before, but starting work, has given me more drive and passion, and enormous personal satisfaction."

[Image: L: Sue R: Maxine]
Inspira can help you move forward with your career. We'll identify skills, strengths, experience, aspirations, and any areas you may wish to develop. Whatever your goal or aims our friendly expert team of advisors can cover your needs.
If you'd like to grow your confidence, check out our page: How to be more confident.



Let us help you Be Bold, Be Resilient and Be Relevant. 
To book a free 1:1 appointment with one of our advisers - email, call us or use our form and we will arrange an online or phone appointment with you.   
⮞ Call us on 0345 658 8647 
⮞ Email us at info@inspira.org.uk 
 ⮞ Our Form
Social Media 
⮞ Facebook