Ben's resilience bags him an Inspiring Eden Award.
Ben Currie, a Penrith resident, has been recognised as a great example of how young people have had to dig deep following the pandemic to overcome their barriers to employment. He has recently been given an Inspiring Eden Award after Eden District Council heard his story.
The Inspiring Eden Award, launched by the council, recognises individuals and organisations that achieve excellence in business in the local area.
Ben was nominated for an Inspiring Eden award following his participation with Eden Youth Hub, a partnership between DWP, Eden District Council, Cumbria County Council and Inspira. The Eden Hub helps young people overcome any barriers to employment and supports them to work towards their career goals and aspirations.
Ben's journey to employment was not an easy one, along with having a disability and mobility issues, he left school in the midst of the COVID pandemic with no work experience, no CV and no idea of what he wanted to do. However, with the support of the Eden Youth Hub, Ben worked diligently to develop his employability skills - including attending job interviews, completing his CV and creating an online job site profile.
Ben eventually secured a work experience placement with a local organisation's IT department, which played to his strengths and interests. During the week-long placement, Ben proved to be an excellent communicator, highly organised and attentive to detail, receiving glowing praise from the firm's HR and IT managers. The successful placement ultimately secured him a fully employed position in IT with the company.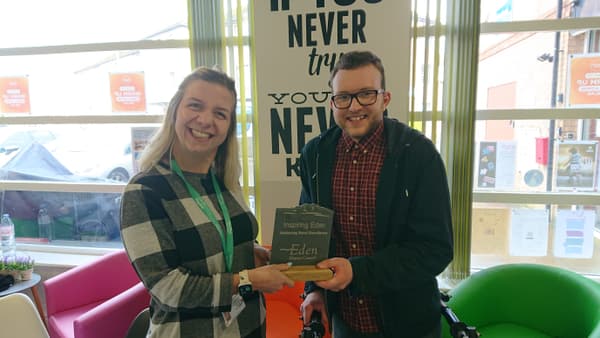 A youth worker from Inspira, Loran Huddart, is attached to the project and works with the young people across Eden to provide support wherever and whenever needed.
Loran said, "There is no typical sort of young person I work with. Everybody faces different struggles when it comes to securing and sustaining employment. Ben showed tremendous resilience in his efforts to find the right career for him. He learnt new skills, took part in challenges with a team, went on a work experience placement and ultimately secured employment as an IT technician. That is what makes my job so satisfying, everybody is different and has differing support needs, be that employability skills, help with finances and budgeting, support with confidence issues, but ultimately everybody needs somebody to be on their side to help them to where they want to get to."
Susan Watkins, Operations Manager at Inspira, said, "I have got to know Ben quite well whilst he has been working with The Hub. He worked long and hard to improve himself and overcome the barriers that were preventing him moving into employment. Ben should be an example to other young people with disabilities, those that have been impacted by the COVID pandemic and those whose confidence is holding them back – keep at it, develop your skills and you can achieve anything."
Ben was presented with his award by Councillor Douglas Banks, Chairman of Eden District Council.
Cllr Banks said, "We are thrilled to recognise Ben with this Inspiring Eden Award for his remarkable resilience in overcoming barriers to secure employment. Through his determination, Ben has proven that with the right support and guidance, anyone can achieve their goals. We extend our warmest congratulations to Ben on this well-deserved recognition and wish him all the best in his future endeavours."
Ben returned to The Hub at Eden Rural Foyer for the presentation.
He said, "Although I have been given this award, it really represents all the young people accessing The Hub. Everybody here is amazing and have really helped me so much. I didn't know what I wanted to do, or even what I could do. Getting support it s a great thing to do – getting an award for it is very humbling."
Any young person wanting to access support through The Hub can drop into Eden Rural Foyer on Tuesdays from 10am to 4pm.