Breaking down barriers to recruitment for people is a shared goal for new staff at a Inspira's Barrow office.
Inspira, which operates across Cumbria and Lancashire, has added three skills and development advisors to its Barrow team.
The new team members are now running a series of training courses to help people in Barrow and Kendal get into employment.
Julia Winder, Area Operations Manager at Inspira, said: "The new team members are settling in really well. It's fantastic to see the enthusiasm they have brought to the team. They are passionate about helping the young people and adults that they work with on a daily basis."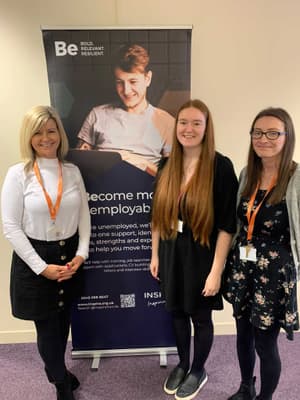 The new recruits - Maxine Moore, Kayleigh Graveson and Olivia Wright - come from varied backgrounds but have a shared goal.
Maxine, a skills and development advisor, from Barrow, has worked in various roles in education and as a family support worker.
During a visit to her workplace from Inspira to talk about how they can support their clients, Maxine realised that she was interested in working for them. She said:
"I love working with people and helping them, especially to grow their confidence and achieve their goals. Last week I found out that I've got six people into work from a course that I ran, so I'm really pleased with that."
Maxine is running an Interview Support Programme in Barrow, which will train attendees on interview techniques, competency-based questions, body language and first impressions when interviewing, and will end with mock interviews with an employer.
Kayleigh is a qualified primary school teacher who studied special needs education. After working in special needs schools and colleges, Kayleigh saw an opportunity to help out in a different way as a skills and development advisor.
She said: "Through my background in disability services I have seen the barriers to employment that exist.
"I've seen people who have disabilities fall through the gaps due to a lack of support with things such as mental health struggles.
"Through this job I can see an opportunity to break those barriers down and give them the support they need to get into work."
Kayleigh is working primarily with 18-24 year olds, and is running a Transferable Skills Programme from Inspira's Barrow office on March 7-10. The programme will teach attendees about the local labour market, explore their transferable skills, CV support, develop interview skills, finance and budgeting advice, and follow up support.
Olivia previously worked as a youth and community support worker for people with disabilities, in particular autism.
She said: "I like everything that Inspira stands for - they help people and it's such a great team to be a part of. I'm working in a people-facing role which is what I really enjoy. I want to work with and for people to help improve things for them."
The new team members have already delivered courses to help people get jobs at holiday parks company Haven and with the NHS.
Inspira also works with employers, local economic partnerships, councils and a range of organisations to deliver comprehensive programmes, solve local skills shortages, invest in young people and help reduce unemployment numbers in targeted areas.