An initiative helping young people into employment has been extended following the success of its first year.
Since October 2021, young people aged between 16 and 24 in receipt of benefits living in the Eden district of Cumbria have received additional support in their search for work and training opportunities by utilising the facilities at the newly formed Eden Youth Hub.
Through the hub, a qualified youth worker has been able to engage with young people experiencing many barriers, such as rural location, poor transport links and a lack of family support, in their search for employment or further training. As part of the role, the youth worker has provided a range of additional services including counselling, employment skills development, personal development and tenancy support.
Formed in partnership between Inspira, Department for Working Pensions (DWP), Cumbria County Council and Eden District Council, the hub has proved an instant success with local young people, and the initial 12-month contract has been extended for another year.
Susan Watkins, Inspira's Area Operations Manager for Carlisle and Eden, said: "Young people face many obstacles to finding work in the Eden district due to its rurality and poor transport links, and what quickly became apparent, partly down to the Covid-19 pandemic, is that many young people have missed out on vital career experience.

"For example, many have not been able to gain part-time work to gain transferable skills, haven't sat exams, have been socially isolated and consequently have experienced anxiety or mental health issues."There are jobs out there locally but that doesn't necessarily mean they are suitable for young people in the district as they may not be able to access transport, may not have money for transport or may be in independent living without the support of family.

"Eden Youth Hub has become such an essential support network for young people as it's not just about finding employment. It also includes help with finding training courses, developing interview skills and building confidence levels.

"It has been extremely rewarding seeing some of the young people we have worked with gain full-time employment, traineeships and apprenticeships, and one has even started their own business from a market stall, so the news that the Youth Hub has been extended for a further 12 months is amazing for the young people of the area."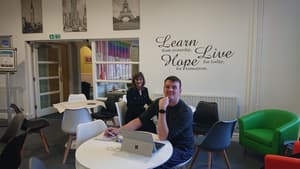 Eden Youth Hub operates weekly from its base in Eden Rural Foyer, in Penrith, while the youth worker also provides an outreach service to young people unable to travel to the facility.
Over the past year, young people have received support from Eden Youth Hub on a variety of subjects in addition to job searching, including counselling, learning to budget, mental and physical well being and debt management.
The services provided have helped people start their professional journeys, and all partners were keen to continue the initiative.
Helen Warren, DWP Senior Partnership Manager, said: "We are delighted to continue the partnership working in Eden Youth Hub for a second year. The DWP youth support offer provides brilliant help for young people across Eden, including holistic advice and guidance for those attending the hub."Through the hub, and the wider youth offer, we give local young jobseekers the help they need to develop skills, access training and find employment, so they can get their lives back on track.

"This is a challenging time for many young people, but with our partners creating new opportunities and boosting skills, we are getting young people into work and helping them progress."
Eden Youth Hub has gained the support from local authorities too, with Cumbria County Council and Eden District Council both keen to promote the services of the facility.
Councillor Phil Dew, Chair of Cumbria County Council`s Local Committee for Eden said: "I'm pleased that we, as a local committee, are able to support this project. Helping young people in our communities to reach their potential is really important, not just in Penrith but throughout the district especially in more remote areas."

Councillor Mary Robinson, Portfolio Holder for Economy and Enterprise for Eden District Council, said: "Eden District Council is delighted to be working in partnership with the DWP, Inspira and Cumbria County Council for a second year."Whilst the hub is based in the Foyer in the heart of our Penrith community, outreach work ensures that young people across the entirety of Eden are given help and support to get into work.

"This programme continues to be an important part of our Inspiring Eden programme to drive economic recovery and prosperity over the coming months and years."
Eden Youth Hub is held at Eden Rural Foyer in Penrith every Tuesday between 10am and 4pm.

Photo:
Susan Watkins, Inspira's Area Operations Manager for Carlisle and Eden, with Jonni Wray, of the Department for Working Pensions, at the Eden Youth Hub.