After years living thousands of miles apart, Hawzhin finally reunited with her husband, got her own home in Lancashire and started her dream career.
Hawzhin's husband moved to the UK to try and improve his life, leaving her in Iran until he was settled in and she could follow him over. Hawzhin continued working as an English Teacher but missed her husband and couldn't wait to be reunited with him again.
For two years they lived thousands of miles apart, Hawzhin in Iran, her husband in the UK. Eventually he qualified for the right to become a UK resident and was able to send a visa so she could join him.
Hawzhim admits that adjusting to her new life in a new country was a little challenging – not least of all because her teaching qualifications weren't recognised here, making it hard for her to find a job. She decided she needed to rethink her career path and, after a trip to the local Job Centre, was referred to Inspira.
"I wasn't very hopeful that anything would come out of it," Hawzhin said, "but after just one session with Emma, my Careers Adviser, she managed to get me a job."
After giving up thoughts of carrying on with her teaching career, Hawzhim had decided she wanted to become a Truck Driver and had already taken the first steps in this new direction. Hawzhin proudly told us:
"Emma was so impressed when I told her I'd passed my UK Driving Test and obtained my Class 1 UK HGV Driving Licence in just six months;
"Emma was so amazing, respectful and encouraging."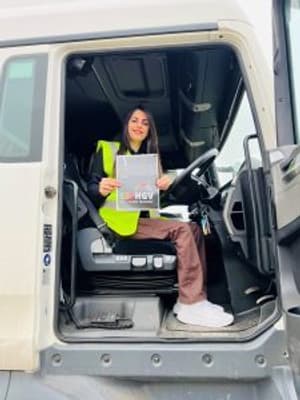 Emma supported Hawzhin during their sessions by re-writing her CV, building on the skills she had gained through her experience in Iran. They also discussed options for finding work, including hand delivering copies of her CV to potential employers, so they could meet her in person.
Hawzhin told us:

"While looking at different companies, Emma mentioned one local firm and gave me their contact information. So, I emailed them, and they got back to me; something no other company had done."
Emma added:
"I also knew of a haulage company in my home town of Lancaster, which is not too far away from Preston where Hawzhin lives.
"We found a list of vacancies and a printable application form. I arranged to print off copies of Hawzhin's CV, and the application form, and put them in the post for her."
After Hawzhin went for a few assessment days, she was offered her dream job!
"I'm so happy to have this job, it's always been my dream to be a truck driver, and now I can finally do it.

Even though there are still a few things for Hawzhin to tick off her list, she has managed to get a mortgage and is settling into her new role.