New roles for charity duo in North West
A hard working duo have accepted expanded job roles with Inspira after it won new contracts across the North-West.
Rachael Slater, Inspira's Area Operations Manager for Lancashire, and Chris Gibson, Inspira's Contracts Manager for Cumbria and Lancashire, are now working in their new roles.
The two experienced managers are working together to further develop Inspira's highly-respected careers and employability support to individuals, businesses and organisations across Lancashire where it has recently expanded its contracts.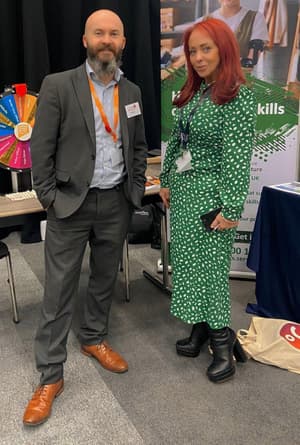 Rachael, a teacher of 20 years, started her career journey with Inspira in July 2021 as Area Manager for Blackpool, Fylde and Wyre. She headed up the Blackpool office where she grew from a team of one to 21 members of staff. She has recently broadened her responsibility to support teams delivering services to customers in the Lancaster and Morecambe areas.
Rachael said, "I have a passionate, energetic and talented team across the whole of Lancashire and I know that people need us now more than ever as a support system."
Chris worked in the welfare sector for more than ten years with a range of employability charities, helping adults develop their skills.
He joined Inspira in 2016 as Deputy Area Operations Manager for West Cumbria to help the organisation grow its support for adults, the charity having already become known for achieving positive outcomes when working with young people.
Chris now takes responsibility for the management of Inspira's delivery of the National Careers Service in Lancaster, Morecambe, Preston, Leyland, Chorley, Skelmersdale and Ormskirk, a role he already undertakes across Cumbria.
Chris said: "Inspira is continuing to grow across Lancashire, an area which Rachael and I are keen to continue to develop."